New NADXC meeting location
NADXC meets the second Tuesday night of the month, at 6:30 p.m. at the Museum of Information Explosion at 1806 University Drive. We will also be on Zoom. Arrive around 6p.m. for social time. We must follow any restrictions by the Museum of Information Explosion as required. Please bring your mask and be prepared to social distance. Detailed information for the meeting will be sent via e-mail after the LongPath is published.

There are over 1,100 classic radios on display, as well as a ham shack. And, of course, the Flex 6600 and IC-9700 will be turned on and ready when you arrive. Our ham shack also includes a recreation of Heinrich Hertz' 1892 – the first experiment of radiated signals, an operating spark transmitter, and a regen receiver from Clarence Tuska (co-founder of the ARRL in 1914).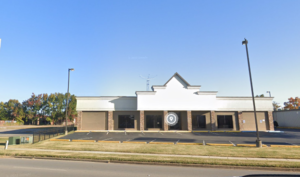 2023 North Alabama DX Club Banquet has come and gone
The 2023 North Alabama DX Club (NADXC) Banquet Dinner was held in conjunction with the Huntsville Hamfest on Saturday evening, August 19th, at the Signals Museum of Information Explosion, 1806 University Drive NW, Huntsville, AL 35801. Thanks to all who attended and supported the banquet!
Our guest speaker was Ken Claerbout, K4ZW, 2023 CQ Contest Hall of Fame Inductee. Ken is not the typical contester or DXer. He won his fame bringing ham radio to the far-flung masses around the globe.
DOOR PRIZES
Many door prizes were given away at the banquet!
Thanks to the ARRL, ABR Coax, Arrow Antenna, Chatt Radio, Cubex Quads, CW Morse, Digirig, DX Engineering, Flex Radio, 405 Laserwears, Gold Medal Ideas, Ham Radio Deluxe (HRD), Hamsource, HamWears, Heil Sound, INDEXA, MFJ, Enterprises, Quicksilver, RT Systems, Shark Antenna, SWL, TN07 Engineering, VE2DX ELECTRONICS and the Wireman for the door prizes.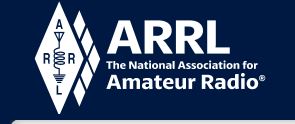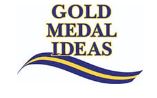 The Grand Prize was a Yaesu DX10 won by N4NM, Chuck Lewis courtesy of

Membership
You can pay current dues in the section below. If you are a new member, and paying dues for the first time, please also submit a membership application (see the New Member page).
NADXC Annual Dues  – select payment button for choice of single/family membership.
Single Dues = $21.23 ($20.00 plus PayPal fee)
Family Dues = $27.87 ($25.00 plus PayPal fee)
Report any issues by sending a note to treasurer@nadxc.org
---

---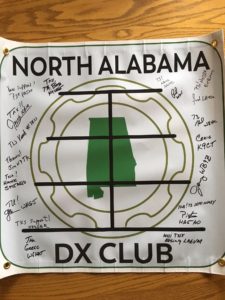 We have recently received our DX Club banner with the signatures of our friends on the recent and ill-fated Bouvet Island DXpedition.
---
Due to lower ARRL fees we have been able to cut the QSL filing fee in half! NADXC provides ARRL Outgoing QSL card bundling for our members who are also ARRL members. Bring your QSL cards to any meeting. The fee for adding to the Club's outgoing bundle is $2.00 per ounce (8-10 cards depending on how heavy they are). You must also provide proof of your current ARRL membership to submit with the cards. Please alphabetize your cards and find Stephen KY4G to submit the cards and payment.