Due to COVID-19, we have been meeting virtually.  We will post information when we resume meeting in person.  The next meeting is Tuesday night Novemeber 10th, at 7 p.m on Zoom virtual meeting.  The room will be open around 6:30 for social time. Information for the meeting has been sent via e-mail.  The program will be presented by Fred Kepner, KF3FRK entitled "Using Software and Online Tools to Hunt and Work DX Froom a Moderate Station".
Using Software and Online Tools to Hunt and Work DX Froom a Moderate Station
We meet at Newk's on University Drive and have moved our meeting start time to 6:30 PM in order to finish before the restaurant closing time. (The address and a map are on the Meetings page.)
---
2021 Huntsville Hamfest Banquet
Details coming in Spring 2021 for the Banquet during the 2021 Huntsville Hamfest
---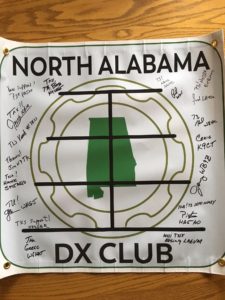 We have recently received our DX Club banner with the signatures of our friends on the recent and ill-fated Bouvet Island DXpedition.
---
Due to lower ARRL fees we have been able to cut the QSL filing fee in half! NADXC provides ARRL Outgoing QSL card bundling for our members who are also ARRL members. Bring your QSL cards to any meeting. The fee for adding to the Club's outgoing bundle is $2.00 per ounce (8-10 cards depending on how heavy they are). You must also provide proof of your current ARRL membership to submit with the cards. Please alphabetize your cards and find Stephen KY4G to submit the cards and payment.
---
If you are a new member, and paying dues for the first time, please also submit a membership application.
NADXC Annual Dues  – select payment button for choice of single/family membership.
Single Dues = $15.80 ($15.00 plus PayPal fee)
Family Dues = $20.90 ($20.00 plus PayPal fee)
Report any issues by sending a note to treasurer@nadxc.org