NADXC meeting location

The next meeting is Tuesday night August 9th, 2022, at 6:30 p.m at the museum of Innovation Explosion at 1806 University Drive.  We will also be on Zoom.  Arrive around 6p.m. for and social time. We must follow any restrictions by The museum of Innovation Explosion as required.  Please bring your mask and be prepared to social distance. Detailed information for the meeting will be sent via e-mail after the LongPath is published.  
---
We are sold out! A few tickets will be for sale at the Dx club table at hamfest.
2022 North Alabama DX Club Banquet
We are excited to announce the 2022 DX Banquet! Not only have we finally been able to entice Ward Silver/N0AX to be our speaker this time, but we have a new venue, a world class caterer, and we have lowered the ticket price! This is our main event of the year, and we take the opportunity to fund DXpeditions through it. This year those will be the 3Y0J trip to Bouvet Is (Jan 2023) and the J28MD expedition to Djibouti (Oct-Nov 2022).
DOOR PRIZES
One of the reasons the DX Banquet has become so popular is the possibility of guests winning door prizes. We could never envision such an event without the generosity of vendors who attend the Huntsville Hamfest and donate these wonderful prizes to our guests. Here are the names of the vendors who contributed prizes to the 2021 DX Banquet. Please support them at the hamfest!  The grand prize will be a Yaesu FTdx10, sponsored by Yaesu and Gigaparts.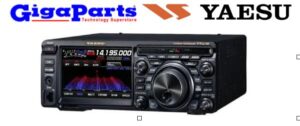 | | |
| --- | --- |
| ARRL | NI4L Antennas/Moravian Falls, NC |
| DX Engineering | Gold Medal Ideas/Buffalo Grove, IL |
| Gigaparts/Huntsville, AL | Tower Electronics/Green Bay, WI |
| Rig Expert/Ukraine | KM4MPF Sales/Chattanooga, TN |
| The Wireman | TN07 Engineering/Eagleville, TN |
| N3ZN Keys | International DX Assn/INDEXA |
| Wolf River Coils | Heil Sound/Fairview Heights, IL |
| Hamsource/Shelton, CT | SignaLink/Tigertronics |
| NCG/Comet/Chino, CA | Nick The Sign Man |
| Ham World Inc/Talladega | |
The new venue is the Elk's Lodge, about a mile southeast of the Von Braun Center, where we have plenty of space and parking, and a pay bar. Our dinner will be prepared by Bubba's Silver Spoon Catering, the largest and oldest (35 years) such service in Huntsville. Our ticket price had long been at $38, but despite all the recent concern over cost inflation, we have found a way to reduce the ticket price to $36. And you can buy your tickets here at our website. And further, you don't even need a Paypal account.   You can send payment to:
NADXC
100 Short Gait Circle
Harvest, AL 35749
Hurry to purchase your tickets before they sell out!
Ward Silver has been a ham since 1972 when he earned his Novice license (WNØGQP). His experiences in ham radio led him to a 20-year career as an electrical engineer, designing microprocessor-based products and medical devices. In 2000, he began a second career as a teacher and writer, leading to his receiving the Bill Orr Technical Writing Award in both 2003 and 2016. He was inducted into the CQ Contest Hall of Fame in 2015 and in 2008 was recognized as the Dayton Hamvention's "Ham of the Year".
Ward is Lead Editor of the two primary amateur radio technical references, both published by the American Radio Relay League — the ARRL Handbook and the ARRL Antenna Book. He is the author of all three ARRL licensing study guides and writes QST magazine articles, receiving the QST Cover Plaque for most popular article four times. He has written two other Wiley titles, as well; Two-Way Radios and Scanners, and Circuit building Do-It-Yourself. His most recent ARRL book, Grounding & Bonding for Radio Amateurs, will soon release a second edition. He has also written the mildly amusing ham radio detective mystery, Ray Tracy: Zone of Iniquity.
On the air, he enjoys DXing, contesting, building antennas, and participating on his local emergency communications team. He is a founder of the World Radiosport Team Championships and President of the YASME Foundation's Board of Directors. Outside of ham radio, Ward plays the mandolin, dabbles in digital photography, and enjoys biking, camping, and canoeing or kayaking (not at the same time).
This year's banquet will be Saturday, August 20th, 2022  at the Elks Lodge at 725 Franklin Street SE Huntsville, AL 35801 More details are on our Banquet page.
---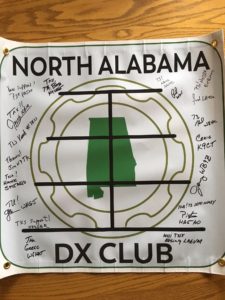 We have recently received our DX Club banner with the signatures of our friends on the recent and ill-fated Bouvet Island DXpedition.
---
Due to lower ARRL fees we have been able to cut the QSL filing fee in half! NADXC provides ARRL Outgoing QSL card bundling for our members who are also ARRL members. Bring your QSL cards to any meeting. The fee for adding to the Club's outgoing bundle is $1.50 per ounce (8-10 cards depending on how heavy they are). You must also provide proof of your current ARRL membership to submit with the cards. Please alphabetize your cards and find Stephen KY4G to submit the cards and payment.
---
If you are a new member, and paying dues for the first time, please also submit a membership application.
NADXC Annual Dues  – select payment button for choice of single/family membership.
Single Dues = $21.80 ($20.00 plus PayPal fee)
Family Dues = $26.90 ($25.00 plus PayPal fee)
Report any issues by sending a note to treasurer@nadxc.org