Welcome to the North Alabama DX Club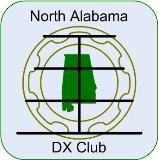 Details for the 2017 North Alabama DX Club Banquet have been released. Click on the link above.
If you are a new member, and paying dues for the first time, please also submit a membership application.
NADXC Annual Dues  – select payment button for choice of single/family membership.
Banquet Ticket = $38.00
Single Dues = $15.80
Family Dues = $20.90
If you want more than one banquet ticket, you may change the quantity before you check out and pay.
Online sales will be closed when we reach our capacity, or about a week before the event. Don't wait until the last minute to purchase your tickets!
***Please note that payments through PayPal do NOT require a PayPal account — you may pay using a credit/debit card.***
Report any issues by sending a note to treasurer@nadxc.org