Welcome to the North Alabama DX Club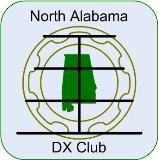 We are now providing ARRL Outgoing QSL card bundling for our members who are also ARRL members! Bring your QSL cards to any meeting. The fee for adding to the Club's outgoing bundle is $3 for the 1st ounce (about 8 cards), and $2 for each additional ounce. You must also provide proof of your current ARRL membership to submit with the cards. Please alphabetize your cards and find Stephen KK4TJP to submit the cards and payment.
If you are a new member, and paying dues for the first time, please also submit a membership application.
NADXC Annual Dues  – select payment button for choice of single/family membership.
Single Dues = $15.80 ($15.00 plus PayPal fee)
Family Dues = $20.90 ($20.00 plus PayPal fee)
Report any issues by sending a note to treasurer@nadxc.org