This year we will hold the DX Banquet at the Elk's Lodge on Saturday, August 20, 2022. The address is 725 Franklin St. Here is a map: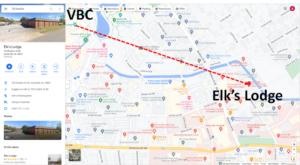 Social hour will start at 5:00PM with dinner seating at 6:00PM. The bar will open around 5:30PM.
Bubba's Silver Spoon Catering will provide the dinner for us. The buffet will include homemade lasagna and grilled chicken with pesto alfredo, green beans, garlic rolls, amaretto cheesecake bars, and sweet/unsweet tea.
We found a way to reduce the ticket price from $38 to $36 this year, but since we have to pay the caterer well prior to the event, we just can't refund any tickets. We may have a few tickets available on the day of the hamfest, but you shouldn't count on that at all. Buy your banquet tickets now to guarantee you can get a seat. You can buy those tickets right on this page. You'll get a receipt and we'll get a record that we'll check when you arrive.
Ward Silver/N0AX has long been an award winning author for many ARRL publications. He will present a forum at the hamfest on his book "Grounding and Bonding for the Radio Amateur." This subject is a big deal here in Alabama, where many of us have lost our entire stations due to lightning strikes. 
Ward will have an historic DX story for us: The DXing history of the Yasme Foundation.
We normally have a large number of very interesting door prizes. Your chance of winning one are extraordinarily high, so you don't want to miss out.  You must be present to win.
DATE & LOCATION
Saturday night, August 20, 2021 at the Elks Lodge, 725 Franklin Street, Huntsville, AL 35801
Social hour at 5:00 PM with Dinner seating at 6:00 PM.
TICKETS
Banquet tickets are non-refundable.
DOOR PRIZES
The grand prize will be a Yaesu FTdx10, sponsored by Yaesu and Gigaparts.
You must be present to win.